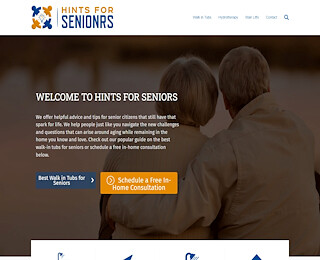 A stair lift turns your multiple story home into a one-story house. It has an immediate positive impact and leads to greater comfort whether you have an injury, limited mobility due to age, or a severe case of intense leg day at the gym. It is a smart idea to keep one around the home even when you have excellent health, because it may help you be a better host for a parent or sick visitor.
Why you should be careful about the chair lift company
Many people do not know where to begin when choosing among the many different models and versions or chair lifts. They also do not know how to select a good stairlift company that keeps its promise on eliminating malfunctions. We have compiled a stairlift guide for seniors to help you judge the credibility of chair lift companies before hiring them.
Unfortunately, most people are not lucky to find a professional chair lift installer like Hints for Seniors in the local area. This case should not spell doom for your home because we can always rectify a poorly executed job. Common issues with hiring the wrong company will include:
Unusual noise
Stagnation
Slow-motion
Struggled motion
Loose fixtures that cause drastic downward motion
Tips for choosing chair lift companies
Chair lifts for mobility challenged people.
The most important aspect of a chair lift company is their consideration for a person's needs and mobility. We will ask about the physical condition of the intended users so that our technical and sales support team can determine which chair lifts for senior citizens is most suitable. The data will help us choose a seat that matches the weight, size, and height of the user. The most common weight range is between 250lbs and 400lbs.
Know the staircase
The type of chair lift you buy will much depend on the style of your staircase. We can tell the best chair lift for the job when evaluating the rail. Our technicians will recommend a standard lift for a straight track without turns and curves.
Leading chair lift companies keep a photo measurement system so that the staircase fits snug on the chair system. Consequentially, they should be able to communicate how each stairlift will variate according to the style of the stair rail. An expert will also know chair lifts for stairs with landings and the best time to fit two stairlifts on a staircase with immediate landing, which will cause a drastic drop in the budget.
Reputable manufacturer
Reading reviews and comparing different stair lift models will give you the confidence that the installer has quality selections in stock. We encourage you to call us for detailed information on all the options. A physical store will typically have a showroom of all the models available.
Professionalism
Top stairlift companies should have a team of trained and professional technicians who can install and service the lift with ease and speed. They should be able to complete the project without a fuss of replacing the chairs, fetching additional equipment, or asking you for another day to restart the installation.
Contact us for all queries on installation and the stairlift cost, and let us help you choose the best stairlift for long-term service.