Walk In Bathtubs For Seniors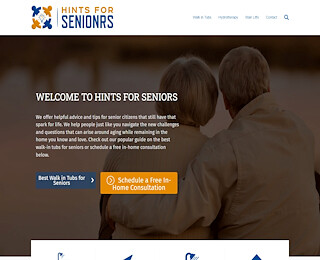 When you want to procure walk-in bathtubs for seniors, we have just the thing for you. At Hints for Seniors, we take care of our elderly in the only way we can – by making their lives easier and more accessible. Our safe walk-in tubs for senior citizens in Pittsburgh, PA, are the best things for them. Here what you should know before buying such a product:
Innovative concept – our walk-in tubs have an innovative idea behind them. As we get older, our mobility decreases, and this means it'll be difficult to step in a classic tub by stepping over the edge. These Pittsburgh walk-in tubs address this issue through the built-in swinging door. This allows easy access in and out of the tub without having to step over its edge. Get hold of such a product straight from us!
Free estimate for a walk-in tub – before buying such a tub, you should know the dimensions as well as the placement of the tub. This is where the free estimate comes into play. Normally, the company where you buy the tub should send someone to analyze your bathroom size, positioning of the tub, and so on. Our Pittsburgh bathroom remodelers, for instance, provide a free estimate at any time. There are no strings attached, and if you decide not to purchase a walk-in tub from us, there's no problem at all.
Cost to install the tub – when our expert will perform the free estimate, they will also communicate the installation fee as well as the price of the walk-in tub. The prices vary from manufacturer to manufacturer, as well as the quality of the tub itself. It can go from $2,500 to $10,000 and even beyond that. We have the best Pittsburgh walk-in bathtub installer working for us, and the process will be a quick and easy one. We won't cause any damage to the nearby walls, plumbing, and so on.
Medicare might not cover a walk-in tub – you should know this from the get-go. Medicare could decide that a walk-in tub was not a necessity, and they'll not cover the expense. However, if you can get a medical diagnosis saying that such a bathtub is a necessity for you, Medicare could change its mind. If not, then we have financial assistance options for those with no insurance.
Good quality warranty – a veritable walk-in tub company would offer a premier warranty that covers any sort of future issues. As for our Pittsburgh, PA, walk-in tubs, they benefit from lifetime warranties. We will manage your bathtub for the rest of your life, and we won't let anything get in the way of your comfort and security!
Hints for Seniors emphasize security, comfort, and independence, above all else, when it comes to our senior citizens. They should feel safe and mobile while performing basic tasks. The walk-in bathtubs for seniors represent our way of helping them. Call us toll-free to schedule a no-obligation in-home consultation at any time: 877-699-7472!