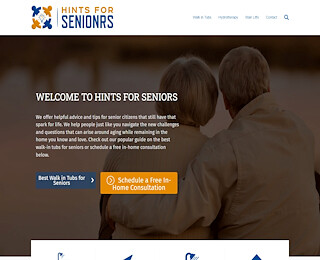 Do you judge the number of followers on a business's page before considering them for a project? Perhaps you are keen on the number of likes without much regard for the commentary of their services. The credibility of an installation company depends on the quality of their service.
Walk-in tubs for senior citizens are a lifetime investment that will also affect the value of the home. Quality and installation should be of utmost importance because the poor quality in either will cause stress that leads to premature malfunctions. The leaks will make it difficult to repair the bathtub; hence you are likely to develop issues with the warranty over time.
What are the options of walk-in tub installation?
Self-installation – You should know enough about water supply and carpentry to make the right modifications for the bathtub. Self-installation is unfavorable because you will void the warranty due to a lack of an installation certificate.
Hire a contractor – Most people will automatically hire a contractor who is familiar with the entire installation procedure.
Five tips to choose the best installation company
The Hints for Seniors observes these standards while installing the tub.
Functionality
Water usage – The tub uses a substantially higher amount of water than the regular one. Our contractors can quickly deduce the water usage of each particular bathtub. The reviews will indicate that clients did not have to upscale their water tank because the tubs had a realistic filling window.
Most contractors will lean towards ¾ fixtures for a walk-in tub with ¾ lines of the tub. This equation creates a recommendable flow rate.
Electrical function – The best walk-in bathtubs need an electrical charge in the tub area. We will consider the electrical supply of your home to determine whether you need one with or without an electrical socket. It is challenging to provide older houses with highly electrical tubs because they do not have sufficient electrical supply.
Drain location – It is preferable to find a walk-in tub with a drain under the tub. We have the best quality of features that allow a smooth and natural flow of water. Feel free to talk to us about all these minute properties so you have preliminary information about their function.
Types of bathtubs
The best installation company has more than one redundant walk-in tub. These options offer different therapeutic effects and mobility functions. Look for the following variations while shopping for an installation company:
Soaker tubs, that allow one to sit
Bariatric tubs that enable a heavier weight and offer more room for movement
Wheelchair tub that makes it easy to transfer from a wheelchair to the tub
Safety features
Walk-in shower installation is futile if it lacks safety features for the elderly. Our bathtubs share the following precautionary features:
Slip-free showers
A step-up height that is at least inches
A built-in seat that reduces effort as one takes a bath
An anti-scald valve that accommodates extreme changes in both hot and cold waters to prevent injuries while bathing
Technology has changed how bathtub installers like ours conduct business. Contact us for details on our installation service if you want to enjoy multiple therapeutic benefits.